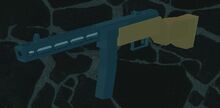 "Pistolet-Pulemyot Shpagina-41, Soviet submachine gun designed by Georgi Shpagin as a cheap and easy to produce submachine gun." - Official In-game description.
The PPSh-41 is a Submachine Gun firing the 7.62x25mm Tokarev cartridge in Call of Robloxia 5. It was designed after the Suomi KP/31, and was a much more simplistic design than the previous PPD-40. During WW2, when Germany was attacking Russia, the PPSh-41 worked better in the winter snow, because of its more simplistic design, than the MP40, which is a more intricate design. Service continued until it was replaced by the AK-47 assault rifle. However, it was still used by Vietnamese troops during the Vietnam War, and is still used by 3rd world countries to this day.
Statistics
Edit
The PPSh-41 is an absolute buzzsaw. These stats will show why.
14-22 damage (16.8-26.4 with Stopping Power)
Fires at an astounding 1200 RPM (not enough? It climbs even higher to 1440 RPM with Double Tap)
holds 35 rounds in its magazine (70 with the drum mag attachment)
Tactical reload takes 2.5 seconds (4 seconds with drum mag, 1.25 seconds with Sleight of Hand, 2 seconds with both)
Empty reload takes 3.5 seconds (6 seconds with drum mag, 1.75 seconds with Sleight of Hand, 3 seconds with both)
Attachments
Edit
While capable on its own, the PPSh-41 has its fair share of attachments, but in terms of versatility, it gets the short end of the stick.
Aperture Sight (a low zoom optic for CQC engagements)
Flashlight (illuminates dark areas while blinding enemy players)
Grip (reduces recoil when attached)
Drum Mag (doubles capacity, at the cost of reload speed)
It, along with the M1 Thompson, are the only guns that can accept the Drum Mag.
Excluding the pistol firecaps, the PPSh-41 is the fastest-firing gun in the game.
The PPSh-41 also has the lowest close range damage, and second lowest long range damage in the game, at 22 damage at close range, and 14 at long range. At long range, the damage is second lowest only to the Sawed Off DB Shotgun.
In the classic Call of Robloxia 5, the PPSh-41 more closely resembles the Suomi KP/31.
With the Drum Mag, the PPSh-41 has the highest magazine capacity in the game, with the MG42 and M1919 Browning at a close second.